The Obey 9F is a two-door sports car in GTA 5 and GTA Online, offered in coupé and roadster form (the latter named the 9F Cabrio). This supercar's design is similar to the Audi R8 Coupé for the coupé form and Audi R8 Spyder for the roadster form. It features a sleek aerodynamic body typical to supercars.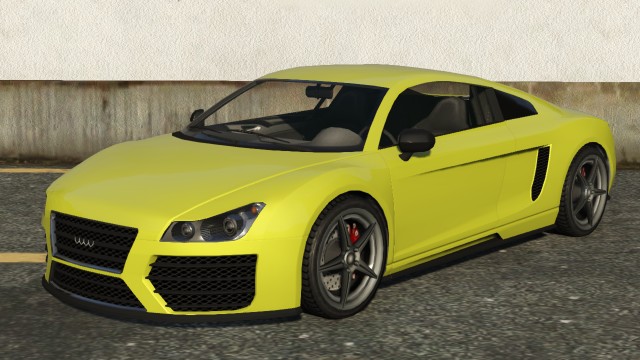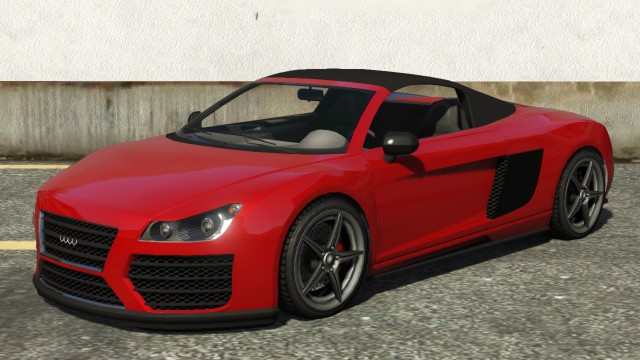 The Obey 9F appears to have very high performance, in terms of top speed and acceleration. One notable aspect of the car's performance is that it has a soft suspension setup which can be visibly seen by the compression of the body into the ground when transitioning from a negative gradient to level ground. This car features large, cross-drilled brake rotors which are coupled to red six piston brake calipers, mounted at the rear of each wheel.
The Obey 9F Cabrio, along with a Rapid GT Convertible, are the two cars Simeon Yetarian assigns Franklin Clinton and Lamar Davis to repossess in the mission Franklin and Lamar. The 9F Is always white, and the Rapid GT is always red.
The transmission on the Obey 9F is world class, maybe even the best in the world. Shifts are quick and seamless. The natural aspirated engine delivers over 400 hp to all four wheels. The car's light weight makes it super quick. When the pedal is pinned to the floor there was very minimal wheel spin. Handling is superb and delivers exceptional feedback and fell. Like any convertible out there cargo space is always a challenge and the Obey 9F Cabrio is no exception.Interior of the 9F is world class. Instrument panels are concise and clear, multimedia interface is very intuitive and we're glad because that controls just about everything.
GTA 5 Price:
$120,000
GTA Online:
Price $120,000
Top Speed:
340 km/h
Location:
Found in the parking lot at the Vespucci Beach in Vespucci.
Occasionally encountered parked on Hawick Avenue in Hawick.
Commonly encountered in Rockford Hills and Vinewood Hills.
Can be bought for $120,000 from Southernsanandreassuperautos.com.