The Pegassi Vacca is a 2-door supercar in GTA 5 based of the Lamborghini Gallardo, the McLaren MP4-12C with the tail light roughly based off of the SSC Tuatara. The Vacca is the first car in the GTA Series to be inspired by a McLaren design. Another vehicle, the Turismo R, is also based on a McLaren design. This car can reach a top speed of 209 mph, because the 570 horsepower 5.2-liter V10 engine. This car is very easy to drive on the roads at high speeds.  The Vacca, like other vehicles in GTA 5, has no reverse lights.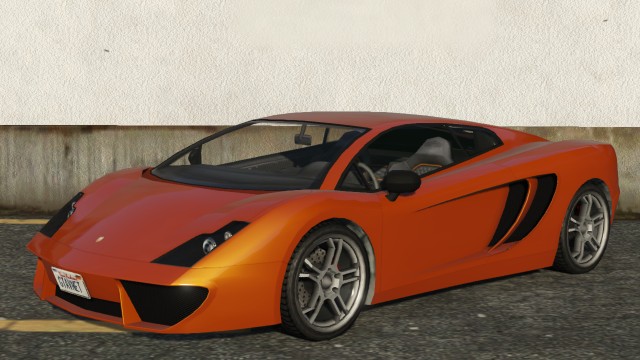 Before the Pegassi Vacca will appear naturally the Epsilon Program missions must be started with Michael (Initiate the missions at www.epsilonprogram.com on Michael's cell phone). After receiving the list of cars to steal in an email from Epsilon, the Pegassi Vacca will be available while you're Michael. The location was just north of Michael Vinewood Garage.
GTA Price:
$240,000 (Online)
(Legendarymotorsport.net)
$240,000 (Story Mode)
(Legendarymotorsport.net and Southernsanandreassuperautos.com)
Top Speed:
320 km/h
Capacity:
2
Extra Mods:
Exhaust, Bodywork, Spoiler, Hood, Turbo
Real life vehicle / inspiration:
Lamborghini Gallardo LP 570-4 Superleggera
Lamborghini Aventador
McLaren MP4-12C
Locations:
During the mission Meltdown, Devin's Vacca is parked in front of the Oriental Theater on Vinewood Boulevard.
Spawns in the driveway at 3659 Wild Oats Drive in Vinewood Hills, just down the street from Franklin's house only when doing the Epsilon missions. It spawns without doing the Epsilon mission by driving the same car in this area.
Alternate location is during the mission: ". The Wrap Up" At the end when it's time to escape, heading toward the front door of the building. In the circle by the front entrance of the building there is a small parking area where there Vacca parked.
For more, watch the video below: "Pegassi Vacca Location"