The Grotti Carbonizzare is a high performance sports car found in GTA 5. It appears to be based off the Ferrari F12 Berlinetta. In game this car is a hardtop convertible. Carbonizzare is Italian for "carbonize", this statement is referring to the car's real life counterpart, the Ferrari California is also made up of carbon and a little else. Car's design inspired by Aston Martin V12 Zagato and the Ferrari F12 for the rear fascia, front and rear quarter paneling, along with the almost identical wheel design as the Aston. The headlights, front bumper ducts and integrated LED daytime running lights appear near identical to those of the TranStar Racing Dagger GT. The Grotti Carbonizzare's convertible feature is based on that of the Ferrari California, while the Aston Martin V12 Zagato doesn't feature any folding roof mechanism.
The Grotti Carbonizzare features a front-mounted V8 engine, Similar to that of a Ferrari California. It has a dual-clutch transmission (possibly 7-speed, can be detected by how the car shifts through gears). Although the Carbonizzare has excellent acceleration and speed, it Often suffers from oversteer and spins out once at high speeds. Overall, If Correctly utilized, it can make-for a great racing vehicle.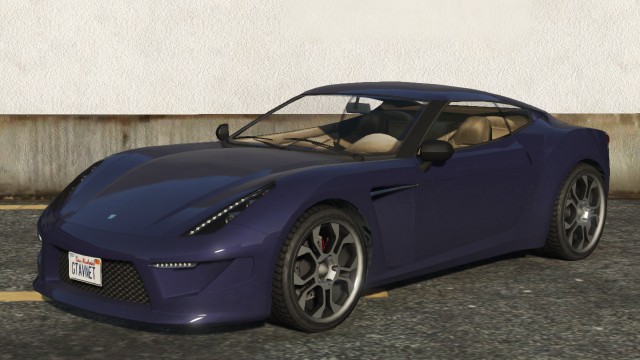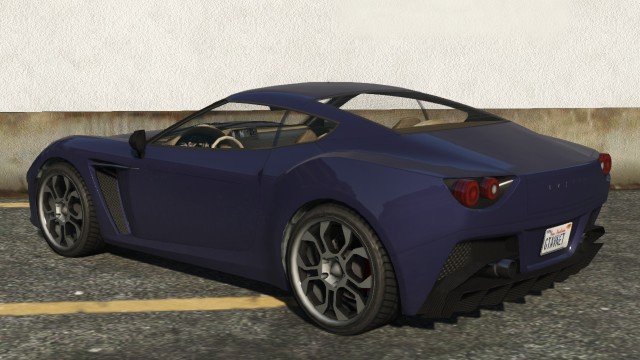 GTA 5 Car: Grotti Carbonizzare
Price:
$195,000 (Convertible Variant) (Online)
market: legendarymotorsport.net
Top Speed:
319 km/h
Capacity:
2
Extra Mods:
Spoiler,Turbo, Exhaust, Hood
Copy of real life vehicle/inspiration:
Ferrari F12, Nissan GT-R, Aston Martin V12 Zagato
Carbonizzare Location:
Spawns outside Solomon Richard's studio before and during the Legal Trouble mission along with a Surano and Rapid GT
Can be found around the observatory area, both parked and in traffic.
The Carbonizzare  Can be found in Rockford Hills.
Several can be found in the Kortz Center parking lot in The Wrap Up.
One usually spawns parked on Marlowe Drive in Vinewood Hills.
More likely to spawn while driving a Turismo R.
Spawns more frequently if driving a Rapid GT coupe.