The Pfister Comet is a sports car that appears in GTA 5. In GTA 5, the Comet has been updated featuring rear quarter ducts as well as a standard rear deck spoiler. It now resembles a Porsche 996 GT2 with minor influences from Porsche 996 GT3.
The Comet in GTA 5 is quite similar to the Comet in GTA IV. The top speed and acceleration have been changed, however, and the most notable difference is that the GTA 5 version is rear-wheel drive, as opposed to a relatively uncommon all-wheel drive drivetrain in GTA IV. In GTA 5, the Comet has fairly average performance for a sports car, but the traction is better than most of the sports cars. However, the car is very light and backheavy, so many players may find the overall handling undesirable, compared to similar cars that have better handling, such as the Elegy RH8 and Feltzer .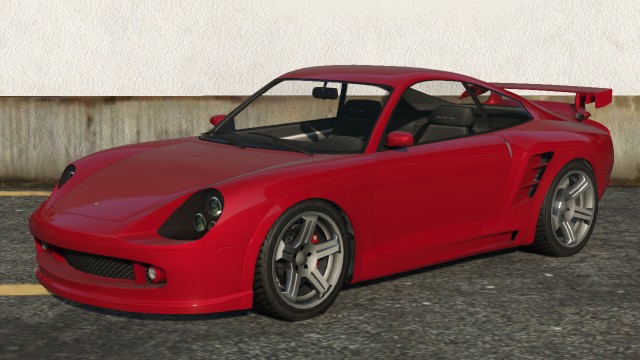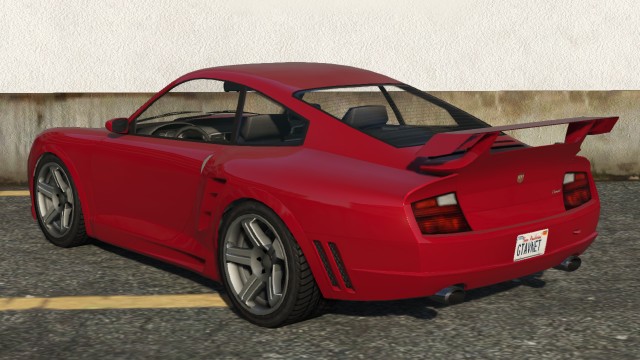 In GTA 5, Southern San Andreas Super Autos (Southernsanandreassuperautos.com)  shows the Comet at the website's wallpaper in both GTA 5 and GTA Online. However, the car isn't purchasable Online. The Comet in the HD Universe has its name badging font similar to the popular font in GTA 5, which is the Freestyle Script.
Price:
$100,000 (Online)
Legendarymotorsport.net
$85,000 (Story Mode)
Southernsanandreassuperautos.com
Capacity:
2
Top Speed:
326 km/h
Real life vehicle:
Porsche 911
Comet Location in GTA 5:
Seen around Rockford Hills.
Isiah Friedlander's red Comet is usually parked outside his practice in Pacific Bluffs. (Only until Abandonment Issues).
Can be spawned with the cheat code button combination:

RB, B, RT, D-Pad Right, LB, LT, A, A, X, RB (Xbox 360).
R1, Circle, R2, Right, L1, L2, X, X, Square, R1 (PS3).

Can be bought for $85,000 ($100,000 In GTA Online instead from www.legendarymotorsport.net.) from Southernsanandreassuperautos.com.
For more, watch he video below "GTA 5 Comet Location"