The Bravado Gauntlet is 2-door muscle car featured in GTA 5. Gauntlet is heavily inspired by the 2008-2014 Dodge Challenger is based on a distinctive body shape, with lines that light and fluffy. It also sports styling cues directly from the 1970 E-Body muscle cars, the Challenger hood scoops resemble the first generation of the Plymouth Barracuda or 1970-1974 and side scoops like the 1971 Challenger  R/T.
The Bravado  Gauntlet has a strong engine with 423hp and high acceleration, capable of going from 0-60 in only 4.6 seconds, however, it has a moderate tendency to spin out, it has above average top speed and outstanding acceleration, but it's only beaten by the Vapid Dominator. same as the Dominator and Cheval Fugitive, The Gauntlet equipped with carburetor engine, which is unusual because it is based on a modern vehicle. The Gauntlet has no reverse lights.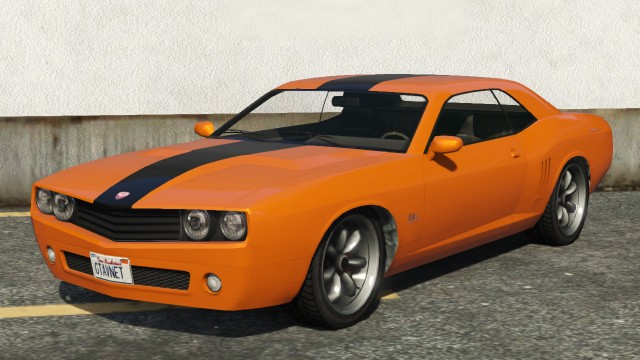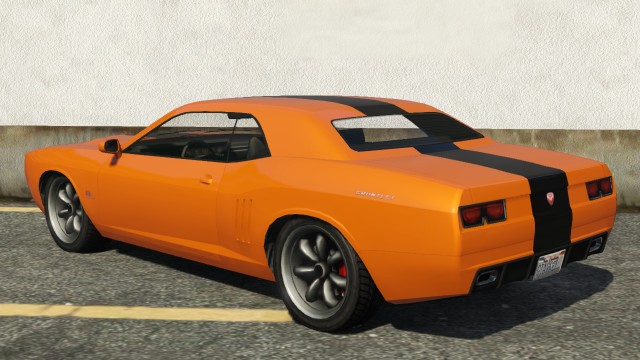 GTA 5 Car: Bravado Gauntlet
Price:
$ 32,000
Market southernsanandreasuperautos.com
Capacity:
2
Top Speed:
300 km/h
Copy of real life vehicle:
Dodge Challenger, Chevy Camaro
Extra Mods:
Turbo
Gauntlet Location:
Can be found parked outside of the Lifeinvader Office.
On-street parking spot, Rockford Hills, in front of the Caca and Winfrey Castiglione shops. Across this location you can find the Truffade Adder as well.
The Gauntlet Found at top floor of a garage, eastern Little Seoul, on Vespucci Boulevard and Peaceful Street, next to the La Puerta Freeway overpass.
At the parking of a big theater, southeast Vinewood Hills.
Sometimes found in the southern part of the LS River storm drain or at the sewer tunnel exit at night, where gang members are having car races.
In a small alley, Mission Row/Vespucci Boulevard, southern Downtown.
Mission "Gauntlet" main objectives are to steal, prep and deliver three  Bravado Gauntlet. Finding locations where you can steal them is even harder if you have not picked the best hacker in previous heist preparation, but as you can find their location here, you do not really need the best hacker for the mission.
For more, watch the video below 'GTA 5 All 3 Gauntlet Location'